Wooden chess set
Our History
We at Chessgammon grew from just selling part-time on eBay into a multiplatform retailer specialising in both Chess and Backgammon, Our aim is to provide both backgammon and chess sets at an affordable price, both online and in person in our shop. We aim to bring together the finest chess sets and chess boards from around the world and make sure these are ready and available for you us to ship directly across our various platforms.
Products
The leading retailer in the traditional board game market here in the UK, we have fine collection of over 400 products. Our service is second to none, in person, over the phone or over live chat, our team are happy to go that bit further for you and to find the correct product, we are far too familiar on issues that can arise from online purchases. Search through our collection to find the perfect quality set to play with no matter the occasion in our stunning collection chess and backgammon, We are sure you will find the right piece, whether it may be for yourself or as a gift for a family member. Our service is readily available and we stock all of our products here in the UK, we supply to individuals and a number of chess club tournaments.
Why Are Wooden Chess Sets So Ideal?
Wooden chess sets are amongst the most popular when it comes to your most ideal chess set, these ofcourse come in various forms and sizes, flat, folding, magnetic and even travel. Firstly wood is a very ideal material to apply ones craft, this has ofcourse been known for centuries and therefore a lot of workmanship involves wood as the primary material. This therefore means our themed chess sets, luxury chess sets and travel chess sets all include wood as the material.
Our vast range of high quality wooden chess sets, this ofcourse includes a wood chess board, chessmen and lastly we also include a storage facility to store your pieces. Our executive range features veneered wooden chess boards, again available in a vast array of shades and woods. The most famous being Walnut and Mahogany, however the Palisander and Macassar shades certainly don't fall too behind from there on. When it comes to shipping, wood is also a material many manufacturers and retailers can trust, we have been shipping chess sets for over 10 years and a high quality set never lets us or the customer down. In terms of cost and price, this continually rises and therefore the quality of the chess sets has remained the same but due to rise in price, the total set does tend to get more expensive, however the price paid is an investment for a long-time to come.
How Are Wooden Chess Sets Made?
The chess boards of these chess sets are veneered by hand, this therefore means craftsmen place each veneer and apply this by hand to complete the respective finishing. The chessmen which are regarded as the most valuable part of the chess set, each piece is weighted and made from blocks of solid wood by skilled craftsmen in Amritsar India.
Expanding further onto the chessmen, craftsmen in Amritsar begin the process by leaving blocks of solid wood outside to dry, any damp or moisture that creeps into the wood will require the process to start fresh again.
The wood in the scolding heat is left to dry commonly on factory roof tops and can take months to dry. Craftsmen will then take these blocks to carve out each and every part of this fine set of chessmen. This process can take upwards of a few hours to complete for each chess set, more complicated designs will often take a lot longer.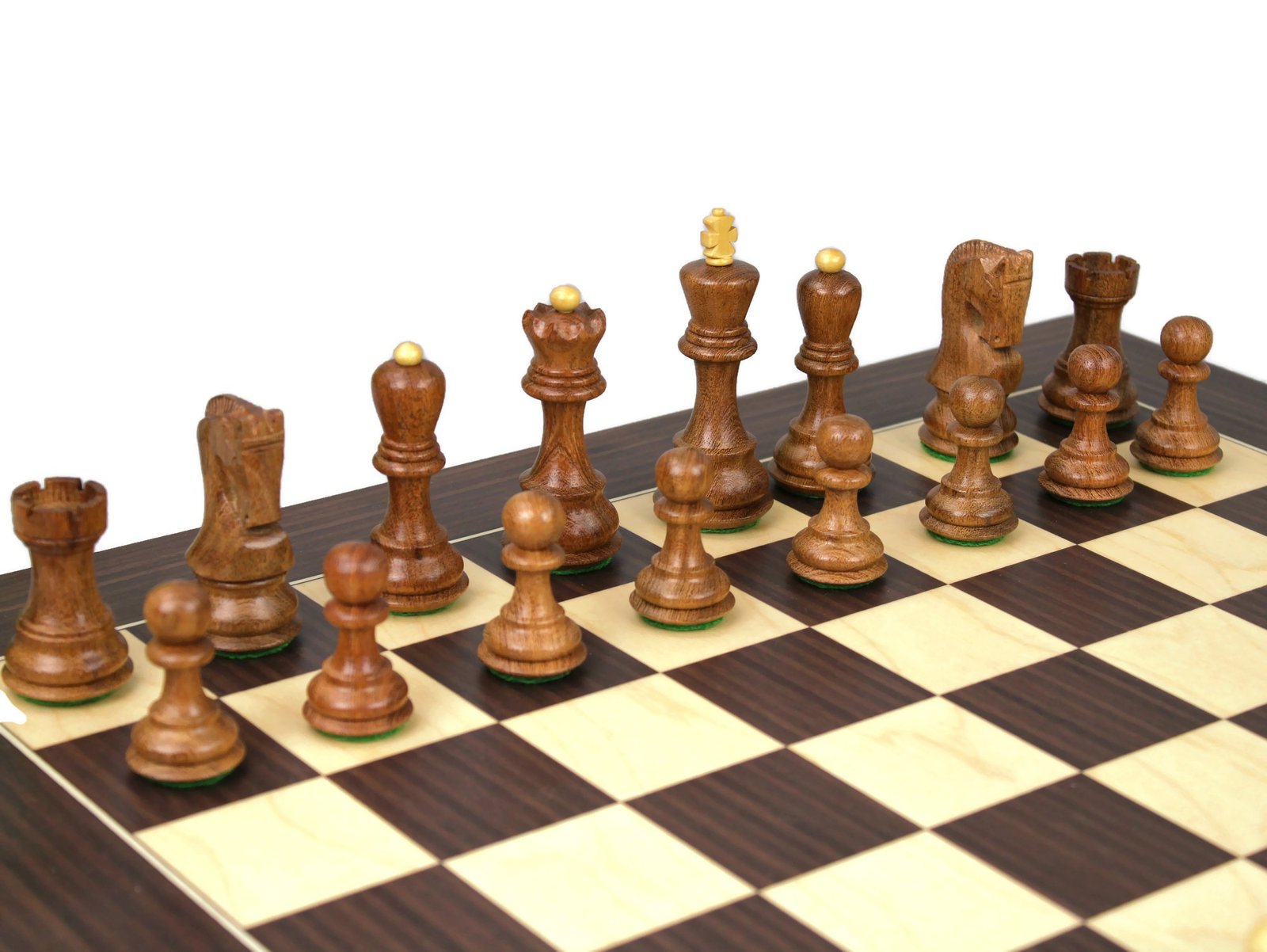 Which Chess Piece Requires The Most Time?
Often we may think this is the King piece, however it is the Knight piece takes the most time, often it is a more skilled and highly experienced craftsmen who solely focusses on the knight piece. Furthermore the craftsmen concentrate on various designs, as visible by most designs the main piece that differs is the knight, some taking less time and others taking a lot more time to make and carve out.
Difference Between Handmade Chess Sets And Machine Made?
At Chessgammon we only specialise in handmade wooden chess sets and this is partly because the cheap machine made products are too common to find, specially in large retailers and local supermarkets. The main distinction between a handmade chess set will be a notable variation in shade, size and craft on each piece. In contrast to a handmade chess sets, machine made wooden sets are far too uniform and regular.
What should a wooden chess set include?
A wooden chess set should include the chess board itself in the form of either a flat or foldable board and chess pieces made to size to sit on the chess board. The storage facility is always optional, most foldable and travel chess sets will have this storage facility, however large flat board don't always come with this storage feature. We at Chessgammon have ensure all of our wooden chess sets come with a free high quality wooden chess box to protect your chessmen. We also include a free instruction booklet for any new enthusiasts willing to learn and climb their way up the ladder.
How Are Wooden Chess Pieces Measured?
Staunton chessmen are measured by the height of the king, commonly when a set of chessmen is referred to as '3.75', this is related to the height of the king being a size of 3.75 inch. The base of the chessmen are just as even or very similar to the size of the king and are always weighted.
Types of Chess Pieces Included In A Wooden Chess Set?
Considering you know the money is well spent after your endless of browsing on the internet to find the right set, it is important to receive all the information to make the most valid purchase for you. The Chess pieces are only important in ratio to the comparison of the chess board, often a flat board that is large and championship size will have weighted and felted wooden chessmen, however most travel wooden chess sets also include felt but won't be weighted to ensure the set is durable a light to carry around.
Chess Board
A wooden chess board is more than important to match with a set of wooden Staunton chess pieces, usually this chess board comes in various sizes and it is incredibly important to know which chess board is right for your pieces. We stock these chess boards in 16,18 and the tournament size of 20 inch. The size of the chess board is not as relevant as much as the square size, where your Staunton chessmen will sit. In this particular range we stock the 20 inch board with a minimum square size of 50 mm, perfect for 3.75 inch Staunton chessmen.
The chess board is crafted from skilled artisans in Spain, who inlay each veneer by hand and inspect each and every piece by individually before being delivered to us shortly after manufacturing. This superb range of wooden chess boards allows us to offer a huge range of high quality chess sets. Each chess set in perfect condition ready to be passed on to yourself before you enjoy a number of hours practising and playing games with one another.
Chess Storage Box
We are proud of our finest collection of high quality yet very affordable chess boxes, difficult to find across the internet. These superb boxes are designed by hand and crafted with veneers as the exterior, finished with a single metal clasp and the top help together by a set of high quality metal hinges, allowing the lid to open to a 90 degree angle.
The interior comes with two compartments, however the partition can be removed if you choose to squeeze a larger number of chessmen, possibly with the addition of double queen chess sets. The inside is also felted to provide further protection to your Staunton pieces and prevents any unwanted damage. The flexibility of storing them away after you play is always effective to protect your chessmen and therefore at Chessgammon we fully understand a chess set should always include a storage option. Our storage facilities come in Mahogany, Walnut And Ebony wood options, these are displayed across our vast range of wooden chess sets.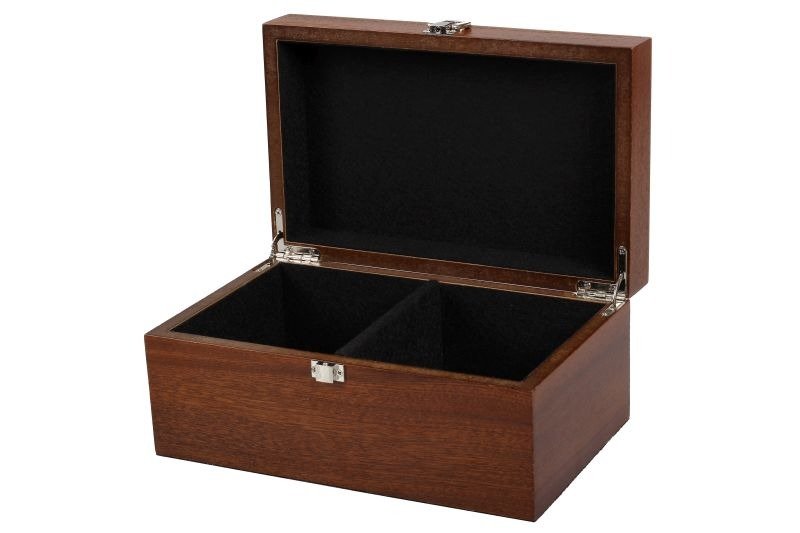 Tournament Standard
Our range of tournament standard Staunton style chess sets include the finest chessmen in the world. We very much deal with some of the finest craftsmen who make the same chessmen and chess boards commonly played with by the worlds famous grandmasters across the UK and the world in the chess tournaments. The chess tournaments have wooden chessmen for the chess sets.
What is a Tournament Standard Chess Set?
Tournament Staunton standard chess sets include, chessmen sized at 3.75, but no more than 4.25″, followed by a chess board with a square size of minimum 2 inches or 50 mm in size. This standard is set to ensure the game moves forward smoothly without any issues. Commonly there can be issues when the size of the chessmen are not in proportion to the size of the chess board.
Common issues are listed below:
The pieces are too large in relation to the playing field, leading to an overcrowded game and the risk of the chessmen toppling over.
The pieces are too small in relation of the size of the playing field. Unfortunately that will piece feeling too far apart.
We want you to find the right one first time, read our advice for a new set that will last you many years!
What We Offer As Our Promise?
Whether this may be by phone, live chat or via email, we will always be on hand to assist you in everyway possible as you shop with us. Our website and online platforms make it easy for you to place orders and furthermore ensure you have all the information you may search for to hand and the product delivered is nothing less than what you would expect. We aim to have all products delivered within 3 working days(Free) here in the UK and this also includes external areas such as the Scottish highlands. Not to forget the shipping service across mainland UK is totally FREE when you shop and checkout through our website.
Our Reviews
We are present on Trustpilot and in writing this post, we have over 200 amazing and superb reviews for the fine quality of our service and chess sets we offer, we love to hear from you the customers as it does allow us to improve on the quality of our service & chess sets on the website. Furthermore we also love to hear on which aspect of our customer journey we can improve on, this may simply just be the service, the delivery or some of the features regarding the product range we sell.
Packaging & Dispatch
Our team, now highly experienced having been sending out orders coming up close to a decade, each order is carefully packed shortly after you have purchased. This involves a double wall corrugated box, bubble wrap and padding applied to provide safety whilst in transit.
We have exported to over 50 countries across the world, as far as the United states and Australia. Many thanks to our relationship with some of the biggest and faster courier services we are able to achieve delivery over a short period of time after we aim for dispatch in 24 hrs.
Delivery
Within England and mainland UK, we aim to deliver within 3 business days(Free), however in England we also offer Next day shipping via DPD, attempting fast delivery within 24 hrs. All delivery related issues can also be dealt with by our designated team who are always on hand to solve any issue.
Speed Of Shipping
We totally understand you may not have found the right set and wish to speed up this process and we are more than happy for you to come to our shop and view the vast array of chess sets we offer. Across Europe we offer delivery via DPD and FedEx and outside of Europe we primarily use UPS and FedEx, both of which incredibly efficient and precise with their delivery times. Our international orders, we aim to achieve delivery in 5-7 business days from the date of purchase. We deliver to any location around the world!
Visit Our Shop!
If you are local to Leicestershire and wish view our vast number of wooden chess sets and further chess products, we are more than happy to welcome you, All of our chess sets are available in stock in our warehouse before shipping out to you. We are a UK based warehouse with a fantastic product range, leading providers in backgammon in the world today. We have a huge range of chess set designs including the staunton design and many travel sets.
We have a large portion of our chess sets collection available on display, we understand you may wish to go that bit further to view the chess set before purchasing and no matter the situation we are happy to welcome you down, ofcourse it is important you have the right set before you spend.
Gift
Our wooden chess sets can be gifted as a present right away and without waiting to open the package and wrap, we do not include any invoices or packaging slips inside the package allowing you to gift very easily.
How great would a lovely wood chess set be for school children learning and growing! Having educational hobbies is an important part of growing up and the skills they recieve in their youth is an important part of adulthood. So why not let them have a go with these wooden chess pieces for an exciting game!